Katia is wearing stockings now as you can see. To me black stockings (and only black ones) underline an erotic appeal. If any female reads this, please undeestand that the color black is very important. Don't put on yellow or green pantyhose, even if they suit your dress, if you want to look sexy. These colors don't look appealing to men.
Sorry, back to my images. Building up sexual tension worked very well for me. There are not many series where I happened to have achieved it in such a subtle way, I believe.
On the left, Katia presents her behind with an arched back. Not too much to look cheap, but the sliding stocking confirms, this is about sexuality and not perfect beauty. It's a photo of a woman in anticipation.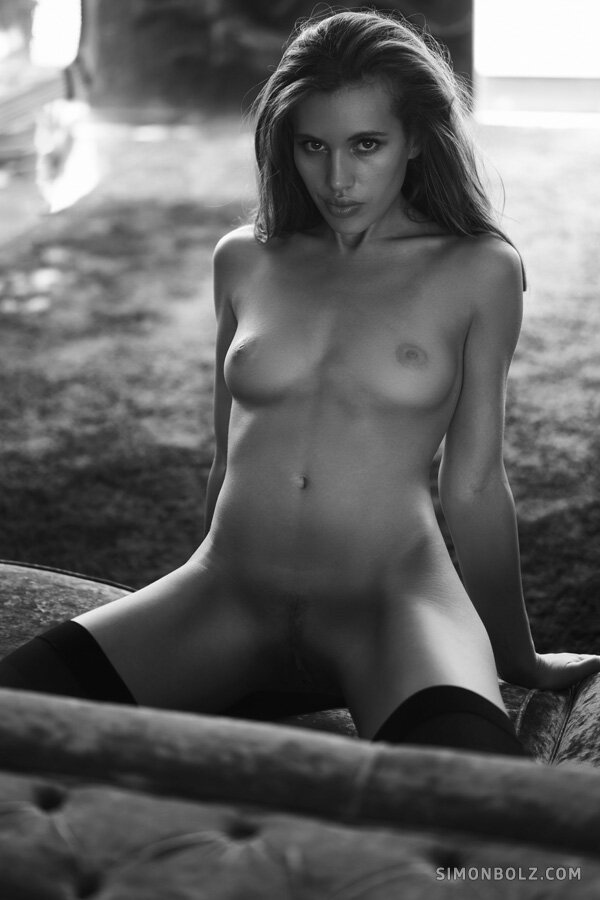 And on the right, you can see the most erotic photo I have taken for my book Sublime. Usually I don't shoot spread legs. But this photo is the result of three years of building trust and I am sharing it with my viewers.
I converted this into a black and white image, so it gets less pornographic. Because it is what it is, a highly erotic photo of a beautiful young woman, spreading her legs invitingly to the observer. But wait, even though her pussy is fully visible, you can't see it. Katia's looks are so strong, you are forced to look into her eyes first and ask for permission to look further down.
Katia's slight smile emphasizes this scene that I just described. And to me this is a very powerful, self-confident and modern photograph of a woman. I call myself a feminist, I don't objectify women. And this is the proof that erotic photography can be tasteful and exist in gender equality, too. It is important to me that men understand this. And also that women understand that they have equal rights and don't have to do certain things to appeal to men.