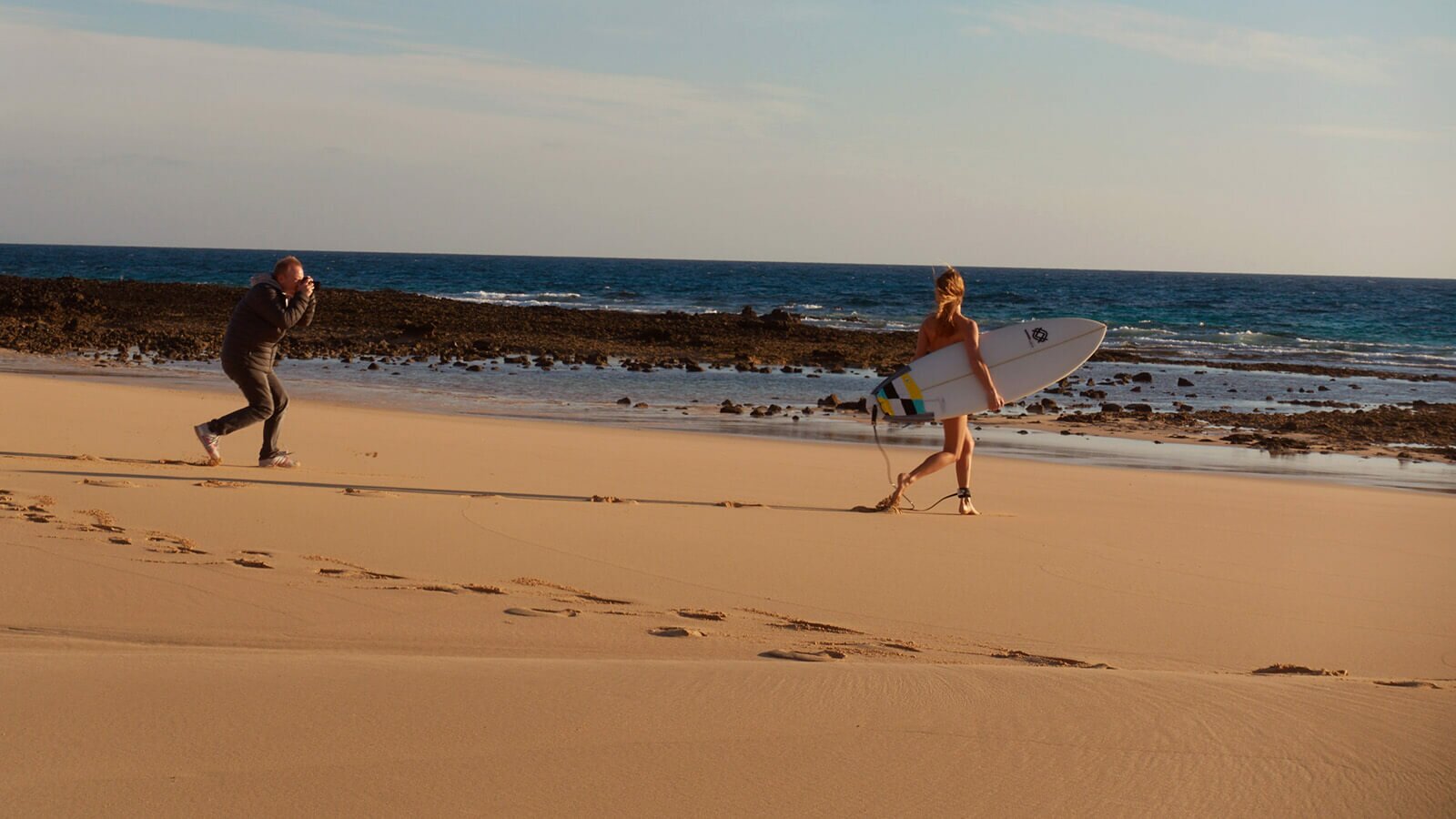 Playboy March 2019
Spending days in the sunshine — in January... What more can you ask for? Thanks to Playboy this dream came true for me. I produced a surfer girl pictorial on the canary islands. In 2013 I had already shot a surfer type story for my book Frisky, so I knew my way around.
Kamila Joana became Miss March 2019 for Playboy Germany. She knows how to surf, so this wasn't just a cliche production, she was the perfect match for this story.
I knew the sun sometimes hides behind clouds in January evenings, so I wanted to make sure to catch the sunrise. One of the first images I captured, was with Kamila and the surfboard by the sea.
As Playboy is all about perfection, you might imagine, there's a lot of retouching done. But I can tell you first-hand that all photos I took are almost out-of-cam. Saturation has been increased a bit, but the current Playboy style is very natural. I love that!
Normally, I don't take my laptop to the beach. But when doing a commissioned production, it's crucial to review and validate the images to ensure there's enough variation, hair and makeup look good and of course, expressions and sharpness are satisfying, too.
Especially when filming, it is wonderful when you can make use of spacious places, film in the beautiful landscape of Fuerteventura, by the beach and in the deserted outback. It was great fun to film the videos for this production.
My favorite scene is where Kamila runs at full speed with the surfboard (and leash) towards the sea. And I follow her, running with a gimbal. Then I overtake her and film from the front. As she was running already, you can imagine, how fast I had been running. Thanks to filming with a gimbal, the shots are all smooth. That's so nice.
Playboy März 2019
The March issue came out on February, 7th. The Playmate series is in the middle of the magazine on 12 pages plus centerfold poster.
You can get your copy here (free shipping within Germany). You could also consider buying the online version or even better, sign up for the Playboy Premium section. There are many more photos and longer videos.
It is wonderful to do these productions with a team. Having an assistant who is not complaining when he has to walk all the way from the beach to the car, just to get my hat, is very pleasing. Thanks, Moritz! It was a pleasure working with you again. Also a big thanks to the Playboy team (also the editors), it is wonderful to be part of #teamplayboy.
Until next time! Cheers!
Browse by category