How to get started
It's correct, you need to begin somewhere. So, I take a piece of paper and write down all my thoughts. I still do this on paper. Works best for me. I believe the process of writing by hand makes a closer connection to your thoughts. At least, that's my impression.
Take one of these three things as a starting point:
a specific theme (e.g. girl on a horse)
a beautiful model
a stunning location
Then fill the remaining two as you will always need to answer all of the three questions: What? Who? Where?
To define your starting point is important. If you don't have it, you won't be able to move on. I met people who were too vague about their shoot. They claimed that one day they want to make a big shooting in a special location. But nothing ever happened, because they weren't specific. This is why I define a starting point for myself and bring a little structure into the whole planning process.
Planning takes up more time than the actual shoot.
Next things on the to-do list
date and time
mood board
accessories and styling
makeup and hair
permissions
light and gear
Date and time
Obviously you need to arrange a shooting date. Book according flights and accommodation. Maybe get a rental car. Rent photo equipment. Book a location. I plan all these things in-depth, so I will lose as little time as possible on the shooting day and can fully concentrate on photography.
I even made myself a grocery list, because I know that after a long day, I might be too tired to think of all the stuff we will need. Maybe, I am a typical German in that respect.
Mood board
For me a mood board is a great way to explain to the model what feeling you want to create with your photographs. Especially when you work with a model that doesn't speak the same mother tongue as you. I pick sample pictures I find on the internet and put them together as a moodboard. These are not poses I want to copy. It's an overall selection of moods that fit nicely together.
A collection of around 40 pictures that help in communicating the story. Some of the photos I pick are also reminders for myself, e.g. that I want to take a photograph from behind with the model looking over the shoulder. Or a certain close up that I want to shoot. As I print out my moodboards I can also carry them on set and personally find this much more handy than using Pinterest or Instagram for browsing a collection of photographs.
Accessories and styling
In my stories, styling is always important. Funny, when people think of you as a nude photographer. But there are things like lingerie, jewellry, high heels and so on.
I never use random styling. You won't see swimwear in a bedroom in my images, for example. Please, don't laugh. I have seen such styling in other people's photographs and I assume to know how this went: A model brought a suitcase full of clothes and the photographer was supposed to decide what he likes. Feeling time pressure, things get picked in a rush. So the bikini ends up in the bedroom.
Another trend is that young girls style themselves too old, by the way. I never really understood this.
This is why I make up my mind before every shoot and buy clothes as well as accessories prior to all my shootings. It costs some money but in my opinion, it's worth it.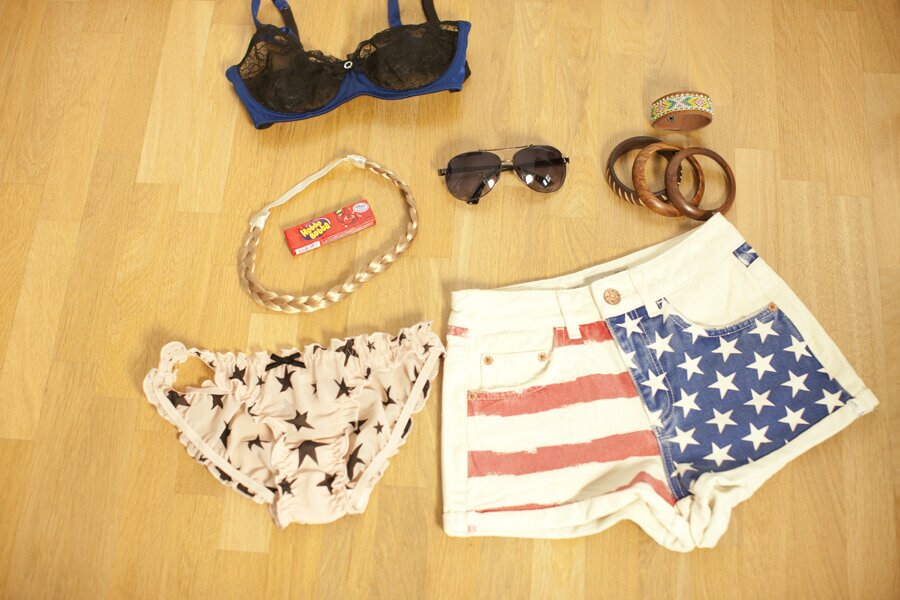 Makeup and hair
Depending on your story and the skills of your model, you will need a makeup artist. When I work commercially, there's always a makeup artist around. It helps a lot. For my personal work, I barely book makeup artists. Not because I don't want to, but because the more people are on the set, the more difficult things get. You might end up waiting for someone. And of course, it's also about the money. But makeup and hair are an important issue and should not be forgotten when planning a shoot.
Permissions
I have learned that it is always good to ask if people allow you to photograph at a specific location. It helps if you have ideas already and can tell them about those ideas. Be prepared that you get refused. This happens to me very often. But rather getting refused than to end up with a lawsuit against you. In today's world, there's always too little communication, I believe.
If you ask nicely and can take away the other parties worries and answer their questions, it is very likely that they will agree and allow you to photograph. Nudity has become an increasing problem for other people. But like I said, simply accept when they say no and move on.
Light and gear
Finally, I think about what gear I need for my shooting. Do I want to use flash light? What lenses do I want to carry with me? Do I need a reflector or sun swatter? Is there need for a tripod?
Conclusion
To me, all these things sound very basic as I work this list almost every week. But as I regularly receive mails from people asking for help, I hope I could bring a little order into the chaos with this article. If you have any questions left, just ask them in the comment section below, please.
Browse by category